Hello Copperview Families!
Thank you all for two wonderful weeks of school! As we shared last year, Copperview has been designated a Comprehensive Support and Improvement school meaning we are among the lowest-performing 5% of Title I schools as identified by Utah State Board of Education. This means:
For a minimum of three years, Copperview is expected to implement significant changes. 

Canyons School District Board of Education has approved a plan for improvement and provided the funding and resources necessary to ensure student success.

Copperview's 2023-2024 team of educators have been intentionally selected to bring experience, expertise, and a desire to achieve rapid improvement and establish ongoing practices for student achievement and success.
Throughout the year I will be sharing success and soliciting feedback for ongoing improvement. If at any time you have questions or concerns about this process or anything else please do not hesitate to contact me. 
To contact me through ParentSquare direct message, search for Colleen Smith in the recipients list. For detailed information on how to use the ParentSquare app for direct communication in your preferred language, use this link. 
I look forward to a successful year!
Sincerely, 
Principal Colleen Smith
colleen.smith@canyonsdistrict.org
(801) 826-8125
Over the past ten days, students have been busy learning the rules and expectations for various games and activities during recess. Each day, each class is assigned one location during their grade level recess to become acquainted with the rules of the game. Classes rotate to a new location every day, ensuring that students have a comprehensive understanding of each activity.
When we return from Labor Day Weekend, students will have the opportunity to choose their preferred activity during recess. Adult supervision will continue to provide guidance and support in maintaining the rules and safety standards for each location.
Prior to the start of the school year, teachers and staff participated in additional training days to establish consistent school wide behavior management routines. This new recess routine is part of our broader focus on reestablishing overall school safety and ensuring that all students have a fun and secure environment to learn and play.
Be a classroom helper, tutor students, collect school supplies, or contribute to fundraising activities: The volunteer opportunities in Canyons District schools are only as limited as your imagination. Each year, in accordance with state law, all Canyons District volunteers must submit a Volunteer Application which can be found on the District's website and completed online by following the prompts. Because it can take up to 72 hours for applications to be processed, it's recommended that prospective volunteers apply well in advance of their scheduled volunteer shift. School visitors, such as family members attending a school event, are not considered volunteers and are not required to complete an application. 
All volunteers, supervised or unsupervised, and all visitors must check in at the front school office every time they visit the school.
A Supervised Volunteer is: 

Any adult (18 or older) who works directly, either individually or in small groups, with students in any capacity. This includes volunteering in a classroom, on a day field trip, interacting with or assisting students in any way (including participation in the Watch DOGS Program, SCC, PTA and Career Day presentations). This individual must always be in the line of sight of another adult and never alone with a student. All volunteers are under the supervision of an assigned District employee. A volunteer application must be submitted annually.  

An Unsupervised Volunteer is: 

Any adult (18 or older) who travels or may work individually with students where they may not be in the line of site of other adults at all times. This includes, but is not limited to, overnight trips, some athletic volunteers, costume fittings, etc…) This volunteer must be fingerprinted in Human Resources with prior approval from the school principal. BCI fingerprint results are valid for three years.

All Unsupervised volunteers need to speak to their principals and ask for a recommendation to complete a BCI fingerprint check in the Canyons District HR Department. This should be completed at least one month prior to working with students.

A Visitor is:

Any individual that is only visiting the school and not volunteering does NOT need to complete and submit a volunteer application. This includes parents and extended family visiting Canyons District schools to observe a school event or guests dining in cafeterias. Also, any active or reserve duty military, active police or fire department, or current Canyons School District employees.
September is Attendance Awareness Month
Our goal this year is to ensure that every student attends school regularly. Showing up for school has a huge impact on a student's academic success starting in kindergarten and continuing through high school. Even as children grow older and more independent, families play a key role in making sure students get to school safely every day and understand why attendance is so important for success in school and in life.
We realize some absences are unavoidable due to health problems or other circumstances. But, we also know that when students miss too much school, regardless of the reason, it can cause them to fall behind academically.  Your child is less likely to succeed if he or she is chronically absent—which means missing 18 or more days over the course of an entire school year.
Research shows:    
Children chronically absent in kindergarten and 1st grade are much less likely to read at grade level by the end of 3rd grade.  

By 6th grade, chronic absence is a proven early warning sign for students at risk for dropping out of school.  

By 9th grade good attendance can predict graduation rates even better than 8th grade test scores.  
Absences can add up quickly.  A child is chronically absent if they miss just two days every month.
Our daily school attendance goal is 90 percent of students at school each day.  A 90 percent average daily attendance goal accounts for routine illness, family vacations, or other needs that may arise during the week.  If you or your student are in need of resources, support, or personalized plans to motivate daily attendance please contact your student's teacher.  We have a variety of support options available.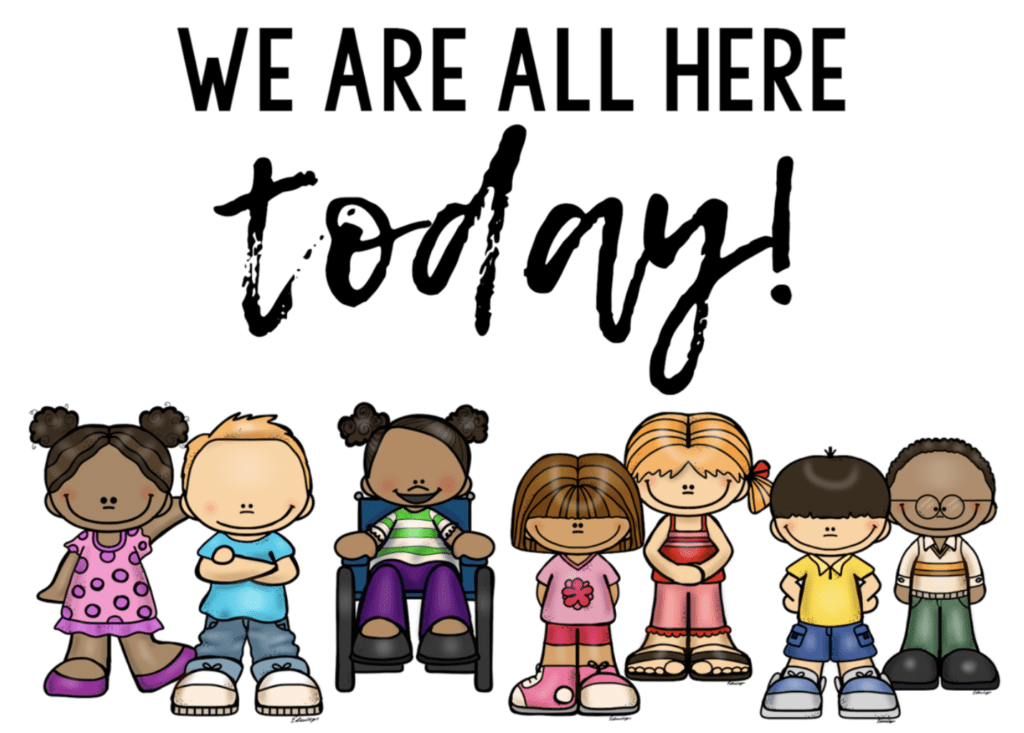 "We Are All Here Today" Award
Any day a class has 100% attendance they get a We Are All Here sign posted outside their classroom door and given a small prize.  It's a special occasion when we have every student in the class in attendance and we shower the class with lots of praise and congratulations!  
| | |
| --- | --- |
| 4 | NO SCHOOL – Labor Day |
| 8 | PTA Meeting (9:00 AM) |
| 12 | School Picture Day |
| 19 | Faculty Meeting (7:30AM) |
| 19 | School Community Council (SCC) Meeting (3:30PM) |
| 22 | K-5 Assembly: Just Jumpin (10:00 AM) |
| 26 | Mobile Food Bank (3:00PM-4:00PM) |
| 26 | School Carnival (4:30PM-7:30PM) |
| 27 & 28 | Parent Teacher Conferences & PTA Book Fair |
| 27 & 28 | Boo to the Flu Community Flu Shot Clinic |
| 28 | Elementary Early Out Day – Students are dismissed at 1:40 PM |
| 28 | Student Awards Assembly – families will be invited to attend if their student is selected to receive an award |
| 29 | NO SCHOOL – Compensatory Day |
School Spirit Fridays
Show your school spirit by wearing your Copperview shirt. On school spirit days, students can earn extra rewards from staff for following the focus rules or expectations of the week.
| | |
| --- | --- |
| 8 | Safe: Have a safe body. Use a safe speed. Be in the right place at the right time. |
| 15 | Kind: Use Stop, Think, Go. Use whole body listening. |
| 22 | Responsible: Use materials for their intended use. Follow directions the first time |
Stay in the Know About Copperview!
SOCIAL MEDIA and WEBSITE: Many questions you have can be answered with information found on our website. Copperview is also active on Facebook and Instagram @copperviewelementary. 

Subscribe to the ParentSquare Calendar: 

On the web, from the left navigation toolbar under the Explore section, select "Calendar" and then click "Subscribe" in the top right.

On the app, tap the triple bar menu, then "Account" > "Preferences" and then select "Automatically add events to Calendar