Grade Level Arrival and Dismissal Locations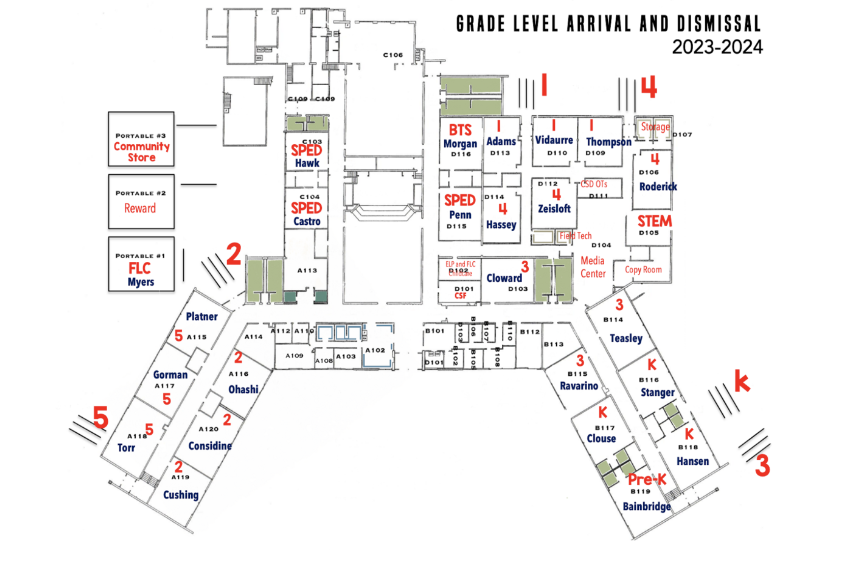 Before School Procedures
School begins at 8:40 am
Students come in through their grade level doors

Tardy bell rings at 8:45 am 

After 8:45 am, students come in through the front doors
After School Procedures
Students leave building through their grade level doors at 3:20 pm on Monday-Thursday, 1:40 pm on Friday
At Copperview, the safety and efficiency of our students during pick-up and drop-off times are of paramount importance. To ensure a smooth process and minimize congestion, we have established the following procedures:
15-Minute Parking Zones
Designated 15-minute parking zones have been established in front of the school for parents who wish to park and accompany their child to and from the school entrance. These parking spots are clearly marked and are intended for brief stops only.
Stay in the Car
Parents who choose to use pick-up and drop-off lane are required to remain in their vehicles at all times during pick-up and drop-off. This helps maintain a steady flow of traffic and prevents congestion.
Students Exit on the Sidewalk
For the safety of our students, all drop-offs and pickups must occur on the passenger side of the vehicle. Merge into the far right lane (closest to the sidewalk) before allowing students to exit the vehicle. This ensures that students can exit and enter the car directly onto the sidewalk and away from moving traffic.
Follow Staff Instructions
Our staff members will be present during pick-up and drop-off times to direct traffic and guide students. Please follow their instructions at all times to ensure a safe and efficient process.
Loading and Unloading Only
The pick-up and drop-off zones are for loading and unloading purposes only. Please refrain from using these areas for extended parking.
No Unattended Vehicles
Parents should not leave their vehicles unattended in the pick-up and drop-off zones. If you need to leave your car for any reason, please park in the designated parking areas.
Pull Forward
When picking up or dropping off your child, please pull forward as far as possible within the designated area to allow more vehicles to access the curb.
Respect Speed Limits
Adhere to the posted speed limits in and around the school area, especially during pick-up and drop-off times.
Use Crosswalks
If you need to cross the street with your child, please use the designated crosswalks. This sets a good example for our students and ensures their safety.
Be Patient
Pick-up and drop-off times can be busy, so please be patient and courteous to other parents, staff members, and students.
Avoid Cell Phone Use
Do not use your cell phone while driving through the pick-up and drop-off area. This helps maintain focus and attentiveness to the surroundings.
Emergency Contact Information
Ensure that your emergency contact information is up to date with the school office in case of unforeseen circumstances.
Teach Safety Rules
Educate your child about the importance of following safety rules during pick-up and drop-off times, including looking both ways before crossing and being attentive to staff instructions.
Encourage Independence
Help your child become more independent by teaching them how to enter and exit the car safely on their own
Canyons District asks students, parents, and patrons to be extra vigilant around road construction sites and be on the lookout for young children crossing busy streets and negotiating traffic. Pedestrian safety is a shared responsibility. Please take a few minutes to discuss these safety tips at home with your families.
Pedestrians should stick to sidewalks when possible and walk facing traffic. Before crossing the street or train tracks, even at a crosswalk or designated area, stop and look left and right.

When biking or skateboarding to school, children should wear a helmet and understand traffic rules. They should come to a complete stop at crosswalks and walk their bike or skateboard across. Bikes and skateboards are not safe for use on train station platforms.

Never dart out in front of a parked car.

Avoid distractions. Do not bike, drive a motor vehicle, or cross a busy area while texting, talking on the phone or using headphones.

Obey all traffic signals and signs, and never go around a lowered gate at railroad crossings.

At train crossings: If lights are flashing or the gate is down, wait for the train to pass completely, the gates to lift and the lights to stop flashing before crossing. It is never okay to rush across and try to beat the train. Trains may be closer and faster than you think.

Don't be tempted to walk along the train tracks. It is dangerous and against the law to walk on the track and the land around it because it is private property.

Drivers must always yield to pedestrians and should take extra care in school zones and at crosswalks.

It is illegal to pass a bus that is loading or unloading children. Keep in mind that school buses make frequent stops and must stop at all train crossings.