The Playworks Mission: To improve the health and well being of children by increasing opportunities for physical activity and safe, meaningful play. For more information: www.playworks.org
Recess Time: Armed with whistles, hi-5s, balls, cones, jump ropes and enthusiasm, Playworks coaches like Coach Vee come armed with recess armor ready to engage kids in safe inclusive game play. Playworks coaches teach conflict resolution skills, organize games, and have fun. In return the school gains much needed academic time, bullying is reduced, and students are learning much needed core values such as respect, inclusion, and how to create healthy relationships with their peers.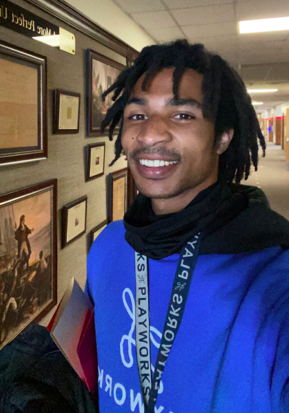 Hey, my name is Max Sine, but you can call me Coach Max.  I am super excited to be Copperview's site specialist this year!  I've always enjoyed working with youth. I teach swimming lessons to kids and have been doing it now for six years.  Living an active life has always been important to me. Growing up I played all types of sports like football, swimming, baseball, track, and basketball.  I also enjoy playing and collecting Pokemon cards, traveling, and playing video games.  I'm excited  to be working with Playworks who specializes in teaching kids lifelong skills like inclusion, conflict resolution, problem solving  and more!  Looking forward to a great school year.  GO COUGARS!