Dear Copperview Parents and Families,
Can you believe we only have 4 weeks of school left? It's true! See below for important information regarding P-EBT, Teacher Appreciation Week, Summer Resources and more! Make sure to view the Upcoming Dates in May as well.
P-EBT (Pandemic – Electronic Benefit Transfer) https://jobs.utah.gov/covid19/pebt/
Pandemic Electronic Benefits Transfer (P-EBT) can help you purchase food if your children have temporarily lost access to free or reduced-price school meals due to school closures from COVID-related emergencies or school absences during the 2021-2022 school year.
P-EBT will work differently this year because of fewer COVID-related school closures and absences.
Copperview is considered 100% Free and Reduced Lunch, therefore, ALL Copperview families qualify for P-EBT funds. Families will be re-imbursed for the 7 remote learning days during the 2021 – 2022 school year ($7.10 per student, per remote learning day).
If a student missed school due to an excused COVID-19 absence on a day when the school was NOT closed, an application to receive the P-EBT benefit for those days must be submitted to the school by Friday, May 6. Please visit the Canyons District Nutrition Services Page at https://www.canyonsdistrict.org/depts/nutrition-services/ to complete the application and turn into the school OR visit the Copperview front office on the following days for assistance:
Need Assistance?
Visit the Coppeview Front Office from 3:00 – 4:00PM
Tuesday, May 3
Wednesday, May 4
Thursday, May 5
For questions regarding P-EBT please contact Jenna Landward via ParentSquare, or email jenna.landward@canyonsdistrict.org / (801) 826-8169.
Distinguished Cougars
Distinguished Cougar Requirement Packets
DUE
Friday, May 13, 2022
No Exceptions
Parent and Teacher must sign off paper
Classic Family Skate Night – End of the Year Celebration
Thursday, May 12
5:00 – 9:00 PM
9151 S. 255 W. Sandy, UT, www.classicfuncenter.com, 801-561-1791
Skating Admission Included Free! Bring the whole family.
Rollerblade and Scooter Rentals $3.00 OR just bring your own from home.
Teacher Appreciation Week
Join us in celebrating Teacher Appreciation Week (Monday, May 2 – Friday, May 6)! To access a list of your teacher's favorite things click here.
Friday, May 6th – DRESS LIKE YOUR TEACHER DAY!
Copperview Recreation Center
8446 S Harrison St, Midvale, 385-468-1515, https://slco.org/copperview/
 – Scholarships available
 – Sports and recreation programs
 – Summer Camp Registration OPEN NOW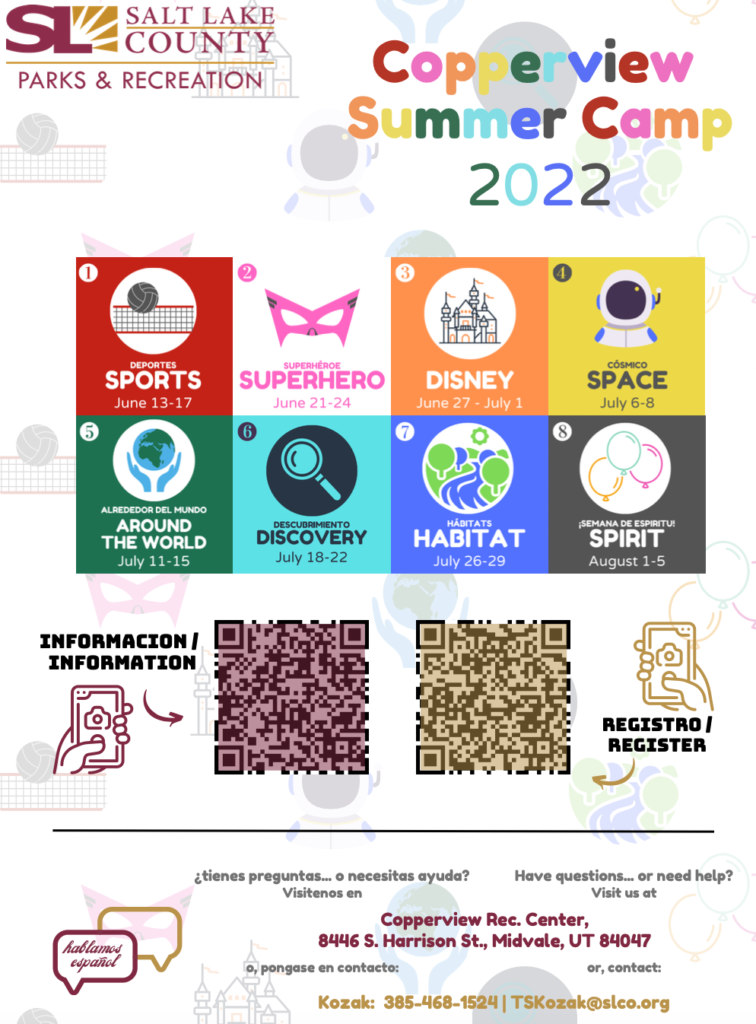 Sandy Club
450 E. 8680 S.  Sandy, UT 84070  *Next to Sandy City Parks and Recreation Building*, 801-561-4854
Summer Camp 2022: A daily program filled with learning experiences, social time, and fun!  In addition to daily activities run by The Sandy Club Staff, the camp will also feature a variety of clubs for children to enjoy such as cooking activities, STEAM, sports, and more. Family events and Sandy Club Gives Back (service projects) will also be offered!
Date:

June 6th – July 29th

Time:

Monday – Friday, 12:00PM to 4:00PM

Cost:

$50.00 one-time registration fee

Registration:

Begins April 1, 2022 – register in-person

Age:

Available to all students ages 6-12
 *Please Note: Students must have completed Kindergarten to participate*
Ruth Vine Tyler Library
8041 S. Wood St., 801-944-4636
 – Apply for free library card—at branch or online 
 
 – Kids Café: Healthy snack program; Mon-Fri 10am – 3pm. 

 – Open Mon-Thurs 10 am-9 pm / Fri & Sat 10 am-6 pm 

 – Brainfuse— free online tutoring 7 days a week 2-11pm
 * Visit the Tyler Library this summer for the "Ocean of Possibilities" reading program. Starting June 1– July 31 pick-up a reading program at the library to complete for a free book and entries into drawings for fun prizes. 
Let's Finish Our Year Strong!!
As we move into May, it is hard not to start thinking about Summer vacation.  Students may start to dial back their efforts in the classroom. It is important, for all adults involved, to help our students finish the year strong.  
To help our students finish strong we can:
Lead by example:  
Children learn by example, so we as adults can lead with a positive attitude.  Speak positively about school and finishing assignments.  Continue to encourage your students to do their best every day and continue to support daily attendance.
Stick to a routine:
As it gets warmer and stays light longer, it becomes more difficult to stick to normal bedtimes.  Helping our students stick to a bedtime routine and get good sleep for the next few weeks will help them be ready for all of the learning activities(and fun stuff) that will be happening in their classrooms.  
Set some goals:
Goals are a great way to keep motivated.  We can help our students set 1 or 2 small goals that they accomplish before the end of the school year.  Some ideas include; Read one or two more books, Earn 100 or more Cougar points each week, Have perfect attendance for the last four weeks, etc.   Work with your students to set the goals and decide how they can work to meet them.
Our Copperview Cougars have worked hard this year and have accomplished amazing things!!  
We can and will finish this year strong!! 
Roseman FREE Dental Clinic 
10894 S. River Front Parkway, South Jordan 84095
 – Friday, May 6 – 9:00am – 4:00pm
 – Free dental screenings and cleanings at the event
 – Children 18 and under receive a voucher to return for a FREE comprehensive exam, x-rays, sealants, and $100 of additional care.  
May
 2-6    Teacher Appreciation Week
 5    Mobile Food Bank (3:00-4:00 PM)
 6    Dress Like Your Teacher Day, School Lunch Hero Day
 11    School Nurse Day
 12.   Classic Skate Night (5:00 – 9:00 PM)
 13    PTA Meeting (9:00 AM)
 17    School Community Council (SCC) Meeting (3:30 PM)
 19    Kindergarten Field Day
 20    Last Day of Kindergarten
 23 – 25 Kindergarten KEEP Testing
 24    Last Day of Preschool
 25    Field Day
 26    Last Day of School (grades 1-5), Early Release 12:45 PM, no lunch served
 26    5th Grade vs. Faculty Kickball Game
 26    5th Grade Clap Out (12:30 PM)