Happy Teacher Appreciation Week!
We were so excited to celebrate our amazing Copperview teachers this week.  We wish we could give them all trips around the world, because that's how much they deserve it.  Instead we took them around the galaxy with a MAY THE 4TH BE WITH YOU theme.  Thanks to the Copperview PTA, Admin team, and office staff for working incredibly hard to make it a great week!
Summer School at Copperview!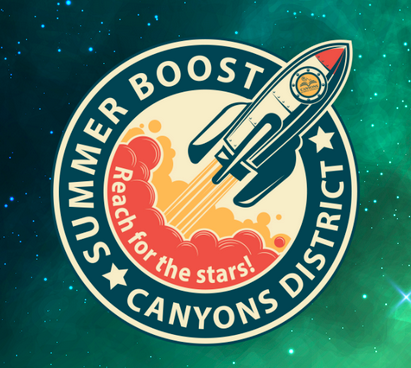 SOME of you may have received invitations for the Summer Boost / summer school program that went out by email on Friday, April 30 from the District. Not all students met the criteria for participation.
If you received an email invitation from the District, the sign up link will ask you to choose a school site. Current Kindergarten thru 4th Grade choose Copperview Elementary 8449 Monroe St, Midvale, UT 84047. 5th Grade choose a middle school location.
The program is three weeks June 7-June 24 and Copperview is a location. It is Monday through Thursday from 8:30 am to Noon. Students will get breakfast at the school and a sack lunch to bring home. Students who sign-up are expected to attend all three weeks.
Deadline to sign up is this Sunday, May 9th. Visit this LINK for more information.
Emergency Broadband Benefit
The Emergency Broadband Benefit Program is a Federal Communications Commission (FCC) program that provides a temporary discount on monthly broadband bills for qualifying low-income households. If your household is eligible, you can receive:
Up to a $50/month discount on your broadband service and associated equipment rentals
Up to a $75/month discount if your household is on qualifying Tribal lands
A one-time discount of up to $100 for a laptop, tablet, or desktop computer (with a co-payment of more than $10 but less than $50)
Only one monthly service discount and one device discount is allowed per household.
The FCC has announced that consumers can begin applying for and enrolling in the Emergency Broadband Benefit Program on May 12, 2021. The program will end when the fund runs out of money, or six months after the Department of Health and Human Services declares an end to the COVID-19 health emergency, whichever is sooner.
May 14 – Distinguished Cougar Award requirements due to front office
May 19 – Distinguished Cougar Award Ceremony @ 1:30pm
May 20 – Kindergarten Field Day & Last Day of Kindergarten
May 24 & 25 – Field Day – Grades 1-5
May 24 ,25, 26, KEEP testing – Kindergarten
May 25 – Last day of Preschool 
May 25 – Last Mobile Food Bank
May 27 – Last Day of School – early out 12:40pm (no lunch provided).