PAPA MURPHY'S FAMILY NIGHT!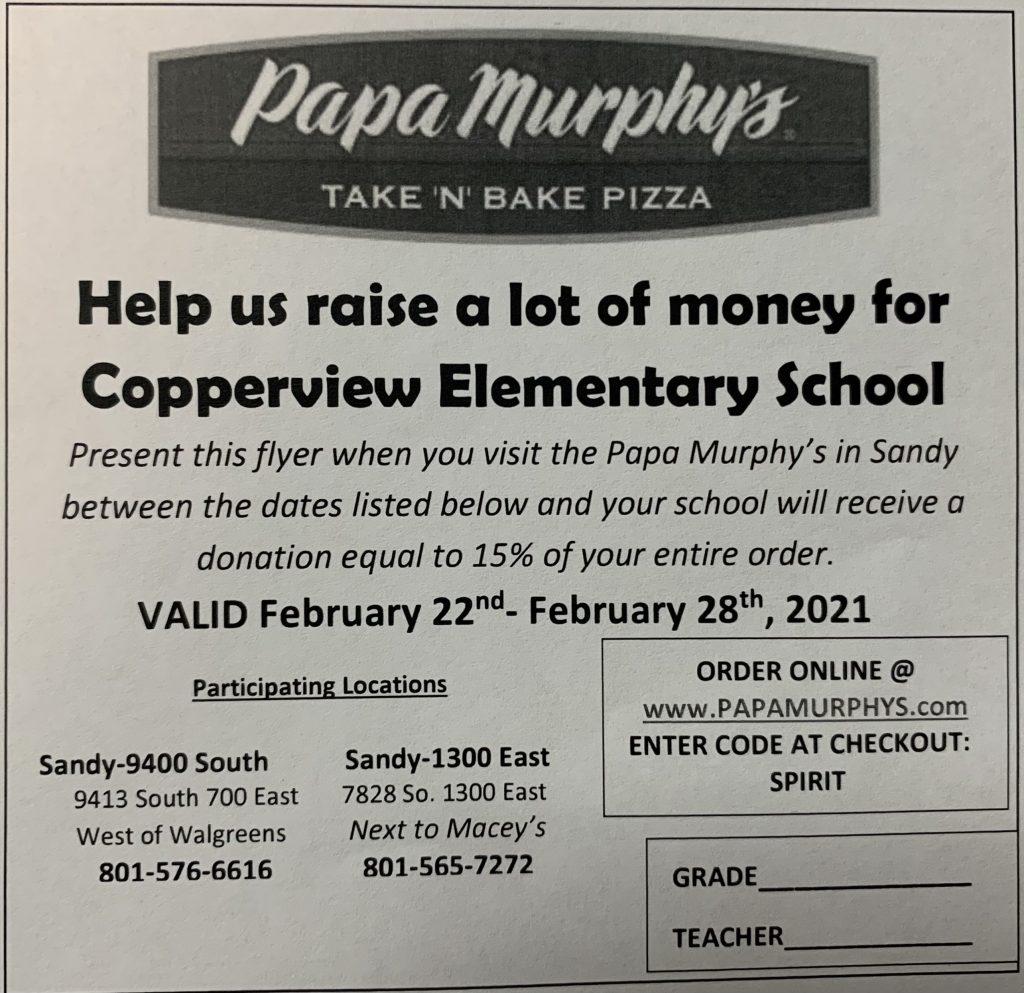 Help us raise a lot of money for Copperview Elementary School
Present this flyer when you visit the Pap Murphy's in Sandy between the dates listed below and your school will receive a donation equal to 15% of your entire order. 
VALID February 22nd – February 28th, 2021
Participating Locations
Sandy-9400 South
9413 South 700 East
West of Walgreens
801-576-6616
Sandy – 1300 East
7828 So. 1300 East
Next to Macey's 
801-565-7272


ORDER ONLINE @ www.PAPAMURPHYS.com
ENTER CODE AT CHECKOUT: SPIRIT
MOBILE FOOD BANK – Tuesday, February 23 from 3:00 – 4:00pm.  All Copperview families welcome. Line up at the back of the school.  Masks are required to enter the building.  We look forward to seeing you there.  
PARENT TEACHER CONFERENCES – February 24 and 25.  Reach out to your child's teacher if you don't know when your conference is scheduled or you need to schedule a conference.  Early out day on Thursday, February 24th at 1:40pm. NO HOME LEARNING or SACK BREAKFAST/LUNCHES for Friday, February 26th because of the scheduled comp day.  
FREE INTERNET still available- Call the Copperview front office at 801-826-8125 if interested.  We will provide instructions and a promo code for Comcast's Internet Essentials.
TIME TO PLAN FOR KINDERGARTEN 2021-22:  
Do you have a child who will be 5 years old by Sept. 1, 2021?
Contact the front office to register them for Kindergarten! 
PRESCHOOL (either Morning or Afternoon) is an option if:  
CANYONS FAMILY CENTER classes!  Classes for students on anger management and anxiety management and classes for parents on positive parenting, helping children through a divorce and ADHD.  Visit this website to see classes, times and to sign up Canyons Family Center Classes